Art Dudley: "I don't know if this is the expensive digital source component I'd buy if I were interested in buying such a thing. Were I to spend this kind of money on a medium that would still remain my second choice, I'd have a hard time ignoring such a product as the Luxman D-06u ($9990), which offers a fine-sounding DAC and adds the flexibility of an SACD/CD transport. But while more flexible choices abound, and while cheaper choices are also thick on the ground, I've heard no other digital product that succeeds quite so well as the ZeroUno at letting music sound like music. Strongly recommended".
Mono&Stereo - UPPER ECHELON
La Scala 100W class A power amplifier.
Matej Isak : "CanEVER Audio LaScala PowerAmp deserves to get a broader recognition not only for it's the stand-out sonic performance but also for reaching out to the frontiers, that most designers are not willing to cross path. I'm happily granting CanEVER Audio LaScala PowerAmp the 2019 Mono and Stereo Upper Echelon Class Award!"
Roland Dietl: "The ZeroUno PLUS impressed me even more than my first meeting with the ZeroUno DAC. I stay with it: visually impressive, a sound and a dream away from the mainstream!"
See more details on the online magazine".
In the ABSOLUTE FIDELITY area, the magazine regularly presents exceptional products.
In the current issue, Stefan Gawlick has dealt extensively with the brand new ZeroUno PLUS from Canever Audio.
You can find the complete hearing report here.
The events surrounding the launch of the ZeroUno PLUS overlap!
Also at MONO & STEREO you will find a news report about the new digital and analog preamp of CanEVER Audio.
Roland Dietl's report has also been published on HIFISTATEMENT's website. Learn more about the technical details of the ZeroUno DAC. You can find the complete report here. (Source: HIFISTATEMENT Netmagazine)
Matej Isak of MONO & STEREO has also become aware of the ZeroUno DAC. During a visit to the Diapason hearing room in Brescia, he was able to collect his first hearing impressions. More pictures of MONO & STEREO at Diapason in Brescia can at the Mono & Stereo website.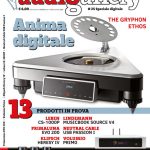 AudioGallery 26 - NOV 2020
Presumo che un certo grado di "affinità elettive" abbia fatto sì che quello con il CanEVER ZeroUno DAC sia stato per me un piacevole incontro. Una macchina costruita in modo ineccepibile, caratterizzata da un attento studio delle problematiche dei DAC, affrontate e risolte mediante soluzioni progettuali originali; un suono forse leggermente caratterizzato, ma sicuramente vero, naturale e coinvolgente; infine la promessa di una aggiornabilità che, almeno sulla carta, dovrebbe preservare l'investimento negli anni a venire. Credo che ci sia tutto ciò che serve per meritare la considerazione degli audiofili italiani.
For all those who have not been able to experience the ZeroUno DAC in Hamburg, there is now something to read from Roland Kraft. Roland Kraft doesn't need any introduction. He has worked a bit closer to the ZeroUno and has come up with a completely non-objective auditory report. The websites of the new Internet magazine LowBeats – managed by Holger Biermann, reports the results.
Srajan Ebaen: "For the very fair price asked, CanEver's Italian-built DAC/pre with transformer-coupled 'chip-direct' outputs plus amplified quad-transistor class A outputs with remote volume control plus high-output headphone sockets wins our award which accounts equally for fine build quality and lovely finishing. Informed by his love of old-school valve circuits with signal-path magnetics and big-iron power supplies, Mario CanEver's ZeroUno HPA contains no glowing filaments yet still manages to evoke refined core traits of such sonics for all the gain without any of the pain. If that's not a win/win, I don't know what is".
The events surrounding the launch of the ZeroUno PLUS overlap!
Also at MON & STEREO you will find a news report about the new digital and analog preamp of CanEVER Audio. preamp of CanEVER Audio. preamp of CanEVER Audio.
Helmut Hack has also devoted a hearing to the ZeroUno DAC in his own diction. Read the full report here.
In the issue 5/2016 you can find another hearing report on the ZeroUno DAC. Philipp Schneckenburger has moved the remote control with loud listening pleasure …………. Here is the audio report.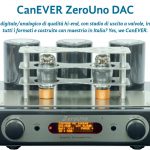 AudioReview 427 - Gen 2021
Lo ZeroUno DAC si è rivelato una gemma nascosta nel panorama della produzione hi-end italiana. Più noto all'estero che non in patria, come spesso accade ai produttori nostrani, CanEVER ha realizzato un convertito-re di valore, costruito senza risparmio di risorse e con grande perizia. Sfrutta al meglio le potenzialità del digitale delle ultime generazioni e lo abbina all'intramontabile fascino delle valvole. Il connubio appare molto ben riuscito con un suono convincente, caratterizzato dalla piacevolezza che gli amanti dei tubi a vuoto cercano ma anche la concretezza che il digitale in alta risoluzione sa dare. Una sorgente completa il cui suono affascinerà molti e che non costringe a nessuna rinuncia sotto il profilo della funzionalità.
© Copyright  2017-2022   CanEVER AUDIO®    All rights reserved.
Canever Mario – P. IVA IT04171260278  info@canever.eu